Recently I had a query from an Epson customer in Italy, asking about waste ink kits for the relatively new PX800FW which translates to Photo, Multifunction, Fax + Wireless for the uninitiated.
Upshot of the conversation was that I hadn't seen one of these printers so I couldn't offer much help but if they wanted to go digging… Great!
The point where you realise you've unleashed a monster is always fun!
Anyway… Away they went on a voyage of discovery, with photos coming in thick and fast until, after about 24 hours they decided to go for broke. Thus it was discovered that the PX800FW has a removable plate, above which lives an easy to remove (and service) waste pad assembly.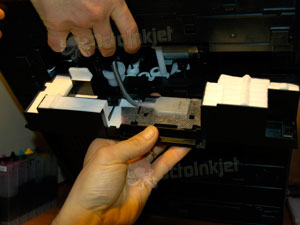 The words at this point are WOW!, Brilliant!, and "About ruddy time!"
Obviously this is a new discovery for me and, as a result, it's hard to say which other printers have this design feature too, but I'd imagine the PX700W is a good contender and maybe the SX/BX600FW. It certainly calls for a bit of further investigation down at the local computer store.
With thanks to Andrea Sapienza for the info
---
As always I'd welcome information on new printer models, like this, so please keep it coming… (Pictures always welcome!).